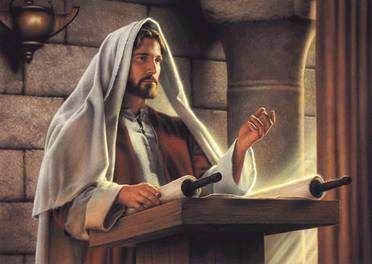 Tallis
,
tfillin
,
shabbos
, Torah classes, sukkot, Jewish stars, Hebrew... must be Jewish. A newcomer to a Messianic congregation, upon seeing the Jewish symbols and paraphernalia, often concludes that this is the real deal, that this is authentic Judaism. When called out on the contradictions between Judaism and Christianity, Messianics will quickly point to the fact that they keep the mitzvot. Indignant at being called a Christian, they reply that they keep kosher, that they keep shabbat, light shabbos candles, etc.
The Messianic movement emerged 30-40 years ago, as sort of a half-way house for Jews into Evangelical Christianity. Frustrated at the low level of Jewish conversion to Christianity, fundamentalist Christians sought a way to make Christianity more palatable to Jews. Well-aware of the bloody history of Judeo-Christian relations and the deep distrust many Jews feel towards Christians, Evangelicals tried to find a way to make their Christianity feel less "Christian". The crucifix, long associated with persecution and oppression, had to go, as did " Jesus Christ", pastor, altar, Sunday morning mass and all of the
goyish
accoutrement often associated with church. In its place came Jewish stars, a newly Hebrew "Yeshua HaMoshiach", rabbis, and shabbos morning services. Dressing up their church- I mean synagogue- with Jewish symbols, the Hebrew-Christian movement set out to teach Jews of the "Jewish Jesus". No longer was he a WASP or a Catholic priest, but a good
yiddishe bochur
, a nice Jewish boy who went to shul, kept the Torah and was 100% kosher. Certainly no Jew could refuse such a messiah.
The result of this emerging Messianic movement was a Christianity that gave up none of its fundamental theology that set it apart from Judaism, but that used Jewish symbols and rituals. Messianics don't keep Christmas as they feel that it is a pagan holiday, yet they still believe in a virgin birth which they celebrate on Shavuot. The same goes for Easter; despite not celebrating what they see as pagan, they still believe that a demigod dying for their sins, and commemorate this event during Pesach. This was a win-win situation for Evangelical Christian: they didn't have to give up on any of their fundamental beliefs and were able to, at the same time, take part in Jewish rituals and observances. What resulted was a primitive form of Christianity that hid itself behind Jewish labels.
The first commandment that the nation of Israel heard directly from G-d's mouth at Sinai was "You shall have no other gods before Me". Only from this fundamental basis can all other commandments proceed. The essence of Judaism is that there is One G-d, One and Indivisible, and none besides Him. Without this, there is no Judaism.
A careful examination of Messianic groups reveals that they fail on this cardinal principle, making any claims of authentic Jewish expression irrelevant.
Jews for Jesus, an organization aiming at converting Jews to Christianity while at the same day observing the mitzvot, states the following as its central tenets:
"We believe in one sovereign God, existing in three persons: Father, Son and Holy Spirit, perfect in holiness, infinite in wisdom, unbounded in power and measureless in love; that God is the source of all creation and that through the immediate exercise of His power all things came into being... We believe that Jesus the Messiah was eternally pre-existent and is co-equal with God the Father; that He took on Himself the nature of man through the virgin birth so that He possesses both divine and human natures."
Whether or not they keep shabbat matters little. At heart, the theology of Jews for Jesus is identical to the theology of Baptists and Evangelical Christians.
Sid Roth's Messianic Vision's
statements of faith
reveal a theology more at place at a Baptist revival meeting, than in a synagogue or yeshiva. Same thing for the Chosen People Ministry,
whose beliefs
are at odds with Jewish beliefs. All Messianic organizations, while pretending to be authentically Jewish, are hostile to traditional and authentic Jewish theology. Simply wrapping a cross in a
tallis
does not make it Jewish. If something walks like a duck and quacks like a duck, then it is reasonable to assume that it is a duck. Messianic groups, while preaching adherence to the Torah, fail on the cardinal test of theology. In that realm, they are purely Christian groups, masquerading around with Jewish objects. One can dunk the New Testament in a
mikveh
and put a
hechsher
on it, but in the end, if it Jesus Christ to be Lord and Saviour, it ain't Jewish.
It is important to discuss Christian misuse of Jewish symbols. By keeping kosher, putting on tfillin and saying the
Shmah
all the while believing in Jesus, one does not endear themselves to G-d. Quite the opposite. G-d demands as a basis that we remember we should have no other gods before Him, and that besides Him there is no other. Anything else is spiritual adultery. Bowing before Jesus, praising him and calling him divine is adultery with HaShem.
"I am the Lord, that is My name, and My glory will I not give to another. Neither My praise to graven images!"
(Isaiah 42:8) G-d does not share His glory with anybody, certainly not Jesus. Keeping the mitzvot while worshipping idols only angers G-d. It can be compared to a wife who suspects that her husband is cheating on her and to placate her, he gives her jewelry, a car and other fancy gifts. Coming home with another woman's scent on his clothes, his diamond bracelets are meaningless. They only make the wife angrier at her husband's betrayal. Similarly, if someone lights shabbat candles in Jesus honour, G-d is infuriated at the desecration. It matters little if a person keep the entire 613 commandments scrupulously; he is cheating on the G-d of Israel who shares His with no one, and has no equal.
As Yom Kippur approaches, we must all do a
cheshbon nefesh
, a spiritual accounting and realize where we have come short. It is incumbent upon each and every person to do
teshuva
and to return to the One who created them. The first step is realizing who the Creator is and who He isn't - and He certainly is no man.
"To whom shall you liken Me and make Me equal and compare Me that we may be alike?"
(Isaiah 46:5)
"I am the Lord your God, Who brought you out of Egypt. You shall acknowledge no god but Me, no savior except Me!"
(Hosea 13:4)
To my readers, I wish you all a gmar chatima tovah.